The 2023 World Slopper Eating Championship
Location: Pueblo, CO
Date: 09-02-2023

Winner: James Webb, with 32 in 8 mins

ITS GETS SLOPPY DOWN UNDER!
James Webb continues his breakout year with a huge upsets over the 3 time champion to win the Slopper Crown!
FULL RESULTS
James Webb 32 Sloppers in 8 mins
Geoff Esper 31.5
Mo Mbengue 23
Bartley Weaver IV 21.5
Steve Hammond 20
Darrien Thomas 19
Michelle Lesco 16
Jon Ansell 10.75
Mark Sutherburg 9
Chris Sealey 8.75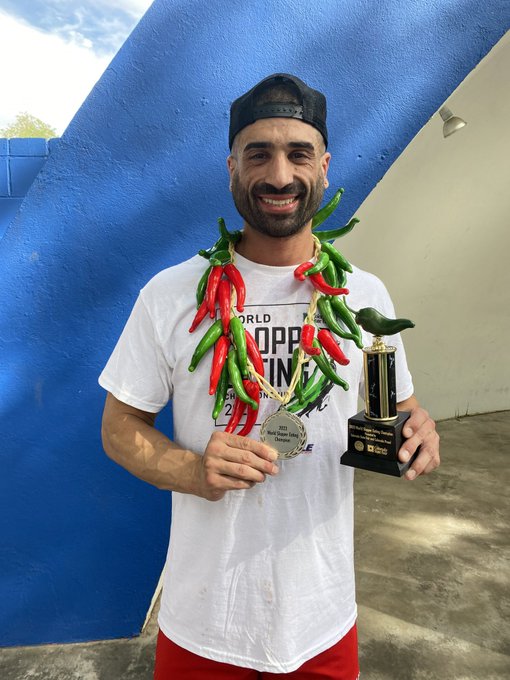 --
Get ready for a mouthwatering extravaganza as the World Slopper Eating Championship returns to the picturesque city of Pueblo, CO! On Saturday, September 2nd, 2023, at the PB&T Bank Pavilion, prepare to witness the ultimate clash of appetites and slopper supremacy.
When it comes to Southern Colorado's culinary gems, nothing tops the legendary slopper. Picture this: an open-faced cheeseburger, smothered in the velvety embrace of savory green chile. It's a symphony of flavors that will transport your taste buds to cloud nine. Trust us, this is a can't-miss dish that defines the soul of Pueblo.
The reigning champion, the unstoppable Geoff Esper, returns to defend his title and his jaw-dropping world record of 37.5 sloppers devoured in just eight minutes. Will Geoff set a new record, pushing the limits of gastronomic achievement even further? Or will a new challenger rise to claim the crown? This is your chance to witness history in the making and be part of the thrilling world of competitive slopper eating.
The World Slopper Eating Championship awaits, promising a flavor-packed journey through the heart of Pueblo's culinary heritage. Let your taste buds dance, cheer for the competitors, and be part of this extraordinary celebration of slopper mastery!
$4,000 TOTAL PRIZE PURSE! 1st $2,000 2nd $1,000 3rd $600 4th $250 5th $100 6th $50
This contest will take place at 3PM MDT, on Saturday, September 2nd, 2023 on the Pepsi Stage at the Colorado State Fair, 1001 Beulah Ave, Pueblo, CO 81004!
CLICK HERE for more information about The Colorado State Fair!
Become a Facebook fan of The Colorado State Fair!
Follow The Colorado State Fair on Twitter @ColoStateFair.
For results to all Major League Eating Contests, follow @eatingcontest.
*All applicants must be 18 years of age or older and fully acknowledge and understand the inherent dangers and risks associated with participating in an eating contest. The applicant further acknowledges and understands that the MLE/IFOCE coordinates with event sponsor(s) to select and approve eligible participants, and that the MLE/IFOCE shall decide, at its sole discretion, whether an applicant is eligible to participate in any eating event, and/or related activities. The MLE/IFOCE may revoke an applicant's eligibility to participate in the eating contest, or related activities, at any time, for any reason, at its sole discretion. The MLE/IFOCE and the event sponsors reserve the right, at any time, to change any and all details concerning the event, including, e.g., time, duration, location and prize structure.
Registration is closed.