2023 Wing It On! USA Chicken Wing Eating Championship
Location: Orchard Park, NY
Date: 09-03-2023

Winner: James Webb, with 276 in 12 mins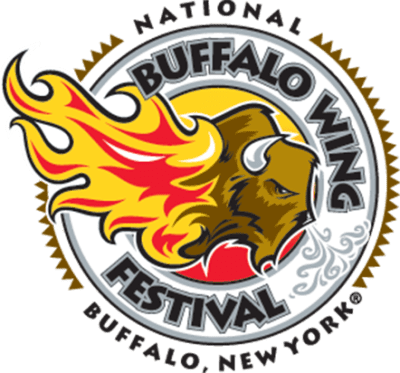 STRINGING A WEBB OF WINGS!
James Webb shocks Buffalo by upsetting the top 4 eaters in the world to take the Wing Championship!
FULL RESULTS
James Webb 276 Buffalo Wings in 12 mins
Joey Chestnut 240
Miki Sudo 231
Nick Wehry 220
Geoff Esper 196
Gideon Oji 194
Ronnie Hartman 146
George Chiger 129
Eric Booker 128
Jim Reeves 119
Mike Harris 57
Crazy Legs Conti 40
--
Calling all wing warriors and flavor fanatics! Brace yourselves for an epic battle of taste, speed, and sauce-drenched triumph as the Wing It On! USA Chicken Wing Eating Championship makes its thunderous comeback at the prestigious National Buffalo Wing Festival! On Sunday, September 3rd, 2023, Highmark Stadium will become the hallowed ground where wing-eating legends are made.
Picture this: a frenzied frenzy of wing-scarfing madness, where every second counts, and wing counts skyrocket. Last year's champion, the mighty Miki Sudo, soared to victory with a mind-blowing 233 wings devoured in a mere 12 minutes. Welcome to the ultimate wing extravaganza, where the flavors of Buffalo and the spirit of wing-centric revelry intertwine. The National Buffalo Wing Festival is a pulsating carnival of culinary delights, bringing together wing aficionados from far and wide. Immerse yourself in the sizzling atmosphere, feel the rhythm of wing-sauce-stained joy, and discover why Buffalo stands tall as the unrivaled wing mecca.
Mark your calendars and embark on a flavor-fueled adventure this Labor Day weekend at Highmark Stadium. The Wing It On! USA Chicken Wing Eating Championship is your passport to wing-sanity, where taste buds unite and wing legends are born. Don't miss out on this finger-licking extravaganza!
TOTAL PRIZE PURSE: $5,000! 1st - $2,500 2nd - $1,200 3rd - $650 4th - $350 5th - $200 6th - $100
This contest will take place at 5pm on Sunday, September 3rd, 2023, at Highmark Stadium—home of the NFL's Buffalo Bills. The stadium is located at 1 Bills Drive, Orchard Park, NY, just north on Abbott, across from Hammer's Lot.
CLICK HERE for more information on the National Buffalo Wing Festival
Become a Facebook fan of The National Buffalo Wing Festival!
Follow The National Buffalo Wing Festival on Twitter @Wingfest.
For results to all Major League Eating Contests, follow @eatingcontest.
*All applicants must be 18 years of age or older and fully acknowledge and understand the inherent dangers and risks associated with participating in an eating contest. The applicant further acknowledges and understands that the MLE/IFOCE coordinates with event sponsor(s) to select and approve eligible participants, and that the MLE/IFOCE shall decide, at its sole discretion, whether an applicant is eligible to participate in any eating event, and/or related activities. The MLE/IFOCE may revoke an applicant's eligibility to participate in the eating contest, or related activities, at any time, for any reason, at its sole discretion. The MLE/IFOCE and the event sponsors reserve the right, at any time, to change any and all details concerning the event, including, e.g., time, duration, location and prize structure.
Registration is closed.