Nathan's Famous Hot Dog Eating Contest - Pleasanton, CA
Location: Pleasanton, CA
Date: 06-17-2023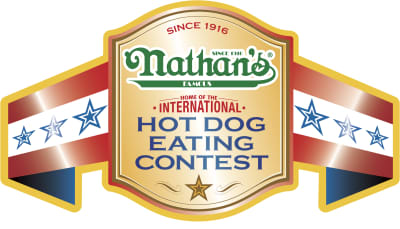 REGISTRATION OPENS THURSDAY, MAY 4TH AT NOON
The Road to Coney makes a stop in the Golden State for a golden opportunity for two top athletes. The Alameda State Fair hosts this west coast qualifier to see who will earn their right to be called one of the best in the sport!
The top male & top female competitors will punch their ticket to the July 4th championship. Do you have what it takes to challenge the reigning World Champions? If so, the time is now. Step up to the table for your shot at becoming a part of history!
This contest will take place at the Alameda County Fairgrounds, located at 2005 Valley Ave, Pleasanton, CA 94566—3PM on Saturday, June 17th, 2023!
About Nathan's Famous, Inc. Nathan's is a Russell 2000 Company that currently distributes its products in 50 states, the District of Columbia, Puerto Rico, the U.S. Virgin Islands, Guam, and 17 foreign countries through its restaurant system, foodservice sales programs and product licensing activities. For additional information about Nathan's, please visit our website at www.nathansfamous.com.
Follow Nathan's Famous on Twitter @Original Nathan's
Become a fan of the Nathan's Famous Facebook Page
For results to all Major League Eating Contests, follow @eatingcontest
*All applicants must be 18 years of age or older and fully acknowledge and understand the inherent dangers and risks associated with participating in an eating contest. The applicant further acknowledges and understands that the MLE/IFOCE coordinates with event sponsor(s) to select and approve eligible participants, and that the MLE/IFOCE shall decide, at its sole discretion, whether an applicant is eligible to participate in any eating event, and/or related activities. The MLE/IFOCE may revoke an applicant's eligibility to participate in the eating contest, or related activities, at any time, for any reason, at its sole discretion. The MLE/IFOCE and the event sponsors reserve the right, at any time, to change any and all details concerning the event, including, e.g., time, duration, location and prize structure.
Registration is open
Nathan's Famous Hot Dog Eating Contest - Pleasanton, CA
Pleasanton, CA
06-17-2023