QDOBA World Burrito Eating Championship
Location: Milwaukee, WI
Date: 04-06-2023

Winner: Joey Chestnut, with 14.5 in 10 mins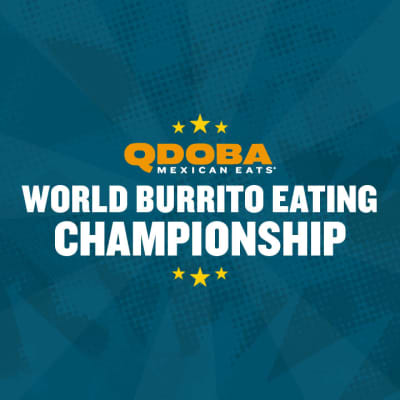 A RETURN TO FORM FOR JAWS
Full Results
Joey Chestnut – 14.5 Burritos in 10 minutes

Geoff Esper – 13.5

Miki Sudo – 11.25

Nick Wehry – 10.5

Pat Bertoletti – 9.25
6T. Joey Valdez – 3.75
6T. Peter Klepacsz – 3.75
6T. Erik Huke – 3.75
---
Attention competitors! Are you ready to celebrate National Burrito Day at the first ever QDOBA World Burrito Eating Championship? On Thursday, April 6, 2023 this exciting event will electrify the world of competitive eating. It is sponsored by QDOBA and it will take place in the heart of Milwaukee's Deer District.
World Champion Competitive Eater Joey Chestnut and other top-ranked Major League Eaters will be battling it out for the championship title and $10,000 in cash prizes. Competitors will have ten minutes to consume as many QDOBA burritos as possible. If you think you have what it takes to become the burrito eating champion of the world, join us in Milwaukee on National Burrito Day.
$10,000 TOTAL PRIZE PURSE! 1st $5,000 2nd $2,500 3rd $1,250 4th $600 5th $300 6th $200 7th $100 8th $50
The contest will took place at 11AM Central on Thursday, April 6th, 2023, at the The Beer Garden in Deer District. 1133 N Doctor M.L.K. Jr Dr, Milwaukee, WI 53203.
About QDOBA Mexican Eats
QDOBA is a fast-casual Mexican restaurant with more than 740 locations in the U.S. and Canada. QDOBA uses ingredients prepared in-house, by hand, and fresh throughout the day to create delicious menu options. Guests can experience QDOBA's delicious flavors by enjoying one of its signature menu options that are chef-crafted for convenience and ease, or by customizing their burritos, bowls, tacos, quesadillas, nachos, and salads to suit their personal tastes. For three years running, QDOBA has been voted the "Best Fast Casual Restaurant" as part of the USA Today 10 Best Readers' Choice Awards.
CLICK HERE for more information about QDOBA Mexican Eats!
Follow QDOBA on Instagram @QDOBA .
Follow QDOBA on Twitter @QDOBA.
For news and results to all Major League Eating Contests, follow @eatingcontest
*All applicants must be 18 years of age or older and fully acknowledge and understand the inherent dangers and risks associated with participating in an eating contest. The applicant further acknowledges and understands that the MLE/IFOCE coordinates with event sponsor(s) to select and approve eligible participants, and that the MLE/IFOCE shall decide, at its sole discretion, whether an applicant is eligible to participate in any eating event, and/or related activities. The MLE/IFOCE may revoke an applicant's eligibility to participate in the eating contest, or related activities, at any time, for any reason, at its sole discretion. The MLE/IFOCE and the event sponsors reserve the right, at any time, to change any and all details concerning the event, including, e.g., time, duration, location and prize structure.
Registration is closed.