The Outlaw Egg Rolls World Egg Roll Eating Championship
Location: Lubbock, TX
Date: 06-10-2023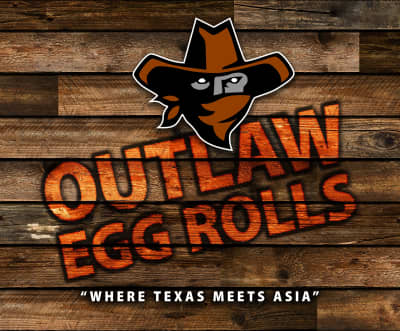 Ladies and Gentlemen, gather around for a feast of epic proportions! Major League Eating is thrilled to announce the return of the Outlaw Egg Rolls World Egg Roll Eating Championship on June 10, 2023!
Last year's winner, Geoff Esper, proved that he's got the hunger to conquer 32.25 4-oz Outlaw egg rolls in just 8 minutes, but will someone new join the egg-stravaganza in the egg roll Hall of Fame? The world-famous Outlaw Egg Rolls are sizzling with excitement and Lubbock, TX is ready to host this much-anticipated event.
Eight minutes of non-stop action are waiting for you as you watch the fiercest competition unfold, bite by delicious bite. Will the reigning champion, Geoff Esper, continue to reign supreme, or will a new egg-treme athlete rise to the challenge?
Whether you're ready to chow down, cheering from the sidelines, or tuning in from the comfort of your own home, the Outlaw Egg Rolls World Egg Roll Eating Championship is an event that's sure to leave you feeling full and satisfied. Join us on June 10, 2023 and be a part of the egg-citement!
$4,000 TOTAL PRIZE PURSE! 1st $2,000 2nd $1,000 3rd $500 4th $350 5th $100 6th $50
The contest will take place at 1:00 PM CST on Saturday, June 10, 2023, at Prima Vista Events Center 402 N Inler Ave Lubbock, TX 79416!
CLICK HERE for more information about Outlaw Egg Rolls! Follow Outlaw Egg Rolls on Facebook
For news and results to all Major League Eating Contests, follow @eatingcontest
*All applicants must be 18 years of age or older and fully acknowledge and understand the inherent dangers and risks associated with participating in an eating contest. The applicant further acknowledges and understands that the MLE/IFOCE coordinates with event sponsor(s) to select and approve eligible participants, and that the MLE/IFOCE shall decide, at its sole discretion, whether an applicant is eligible to participate in any eating event, and/or related activities. The MLE/IFOCE may revoke an applicant's eligibility to participate in the eating contest, or related activities, at any time, for any reason, at its sole discretion. The MLE/IFOCE and the event sponsors reserve the right, at any time, to change any and all details concerning the event, including, e.g., time, duration, location and prize structure.
Registration is closed.