The Outlaw Egg Rolls World Egg Roll Eating Championship
Location: Lubbock, TX
Date: 06-11-2022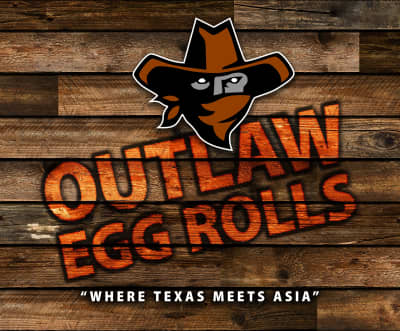 REGISTRATION FOR THIS EVENT IS OPEN!
Ladies and gentlemen! Major League Eating is proud to announce another new addition to our 2022 slate of sanctioned eating contests—the Outlaw Egg Rolls World Egg Roll Eating Championship!
Outlaw Egg Rolls are the finest egg rolls known to mankind. Their efforts have cemented Lubbock, TX, as the world's leading egg roll center. If you want New Haven-style pizza, go to New Haven. If you want an egg roll, go to Lubbock and see the fine people at Outlaw Egg Rolls. It's that simple.
Will you set a world record in the egg roll discipline over eight minutes of sanctioned competition? Will you come second? Third? Last, but happy? Or do you simply want to watch the best in the world do what they do so well? This is the Outlaw Egg Rolls World Egg Roll Eating Championship. At the table or in the crowd—don't you ever miss it!
$4,000 TOTAL PRIZE PURSE! 1st - $2,000 2nd - $1,000 3rd - $500 4th - $350 5th - $100 6th - $50
This contest will take place at 1pm local time on Saturday June 11th, 2022, at Alcove Farms 7919 Fourth St. Lubbock, TX 79416!
Follow Outlaw Egg Rolls on Facebook.
For news and results to all Major League Eating Contests, follow @eatingcontest.
*All applicants must be 18 years of age or older and fully acknowledge and understand the inherent dangers and risks associated with participating in an eating contest. The applicant further acknowledges and understands that the MLE/IFOCE coordinates with event sponsor(s) to select and approve eligible participants, and that the MLE/IFOCE shall decide, at its sole discretion, whether an applicant is eligible to participate in any eating event, and/or related activities. The MLE/IFOCE may revoke an applicant's eligibility to participate in the eating contest, or related activities, at any time, for any reason, at its sole discretion. The MLE/IFOCE and the event sponsors reserve the right, at any time, to change any and all details concerning the event, including, e.g., time, duration, location and prize structure.
Registration is open
The Outlaw Egg Rolls World Egg Roll Eating Championship
Lubbock, TX
06-11-2022