The U.S. National Buffalo Wing Eating Championship
Location: Orchard Park, NY
Date: 09-05-2021

Winner: Miki Sudo, with 246 wings in 12 mins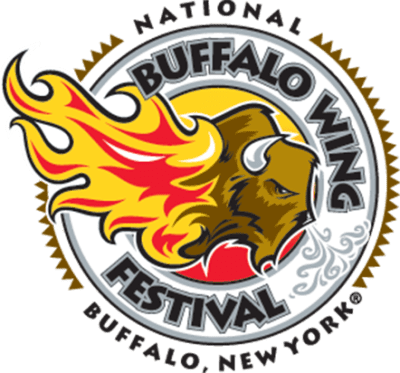 SUDO WINS WINGS IN TRIUMPHANT RETURN TO THE TABLE!
Winter in Aspen. Summer in the Hamptons. And Labor Day in the 716. It is an American tradition like no other—the U.S. National Buffalo Wing Eating Championship at the National Buffalo Wing Festival returns once more, people. Major League Eating will join the Wing King himself, Mr Drew Cerza, in the spiritual home of recreational and competitive chicken wing eating—greater Buffalo, NY. It is an event not to be missed. Major League Eaters are warmly encouraged to sign up for a chance to compete in this legendary event. It is a welcome return home for wing enthusiasts after last year's postponement.
This year's Wingfest will take place at a new location—Highmark Stadium, home of the NFL's Buffalo Bills. The contest will be held on the main stage at the 50-yard line. Eaters will enter the arena from the same tunnel that Bills heroes such as Jim Kelly, Thurman Thomas, Bruce Smith and Josh Allen—even JP Losman—have before games. This marks a major step forward for one of the world's truly great food festivals, which celebrates its 20th anniversary this very year.
At the 2019 Championship, Geoffrey Esper ate 281 wings in 12 mins for the win, edging the great Joey Chestnut by just five wings. Miki Sudo would finish in third with 221. Others ate less but that's totally fine.
Do you dare challenge these legends of wing eating? Do you have what it takes to cover yourself in Buffalo Wing glory or at very least a lot of wing sauce? Do you want to find out, finally, why smart men and women the world over call Buffalo, NY, a truly majestic place to be? At the table or in the crowd—don't you ever miss it!
FULL RESULTS! 1st MIki Sudo 246 2nd Joey Chestnut 244 3rd Geoff Esper and Nick Wehry 220 5th Gideon Oji 192 6th George Chiger 137 7th Ronnie Hartman 136 8th Jim Reeves 119 9th Badlands Booker 114 10 Greg Wells 20
This contest took place at 5pm on Sunday September 5th, 2021, at Highmark Stadium, home of the NFL's Buffalo Bills. The stadium is located at 1 Bills Drive, Orchard Park, NY.
About The National Buffalo Wing Festival! The National Buffalo Wing Festival takes place over Labor Day Weekend at Coca-Cola Field in Buffalo, NY. Part of the proceeds from the festival go to benefit Western New York charities, raising more than $385,000 over the festival's history. This year marks the festival's 20th anniversary.
CLICK HERE for more information on the National Buffalo Wing Festival
Become a Facebook fan of The National Buffalo Wing Festival!
Follow The National Buffalo Wing Festival on Twitter @Wingfest.
Registration is closed.