The 11th Annual Smoke's Poutinerie World Poutine Eating Championship
Location: Toronto, Ontario
Date: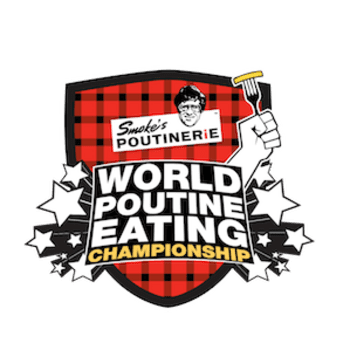 REGISTRATION FOR THIS EVENT WILL OPEN AT A TIME TO BE DETERMINED!
It's back! And it's coming to the MLE Universe this fall! Mark your calendars—the 11th Annual Smoke's Poutinerie World Poutine Eating Championship is not to be missed. This 10-minute battle of man and woman versus fries, curds and gravy is a legend of the MLE circuit. Major League Eaters are invited to sign up for the chance to compete. .
At last year's Championship, the man named Joey Chestnut downed a world record 28lb of Smoke's Poutinerie poutine in but 10 minutes. Some are saying that it is the record that will never be broken but those people fail to recognize the power of the human spirit and stomach.
Do you dare try to take down Chestnut's world record? Do you want to eat as much as you can, but maybe not that much if you're being honest with yourself? Do you simply want to watch the best eaters in the world do what they do so well? At the table or in the crowd, there is no place else to be other than the world's largest Poutine Eating Contest – the 11th Annual Smoke's Poutinerie World Poutine Eating Championship! Don't miss it!
TOTAL PRIZE PURSE: $6,000! 1st - $3,000 2nd - $1,500 3rd - $650 4th - $500 5th - $250 6th – $100
This contest will place at a time to be determined at Yonge-Dundas Square in downtown Toronto, Ontario!
ABOUT SMOKE'S POUTINERIE! Founded in 2009 by creative genius Ryan Smolkin, Smoke's Poutinerie is the World's Largest & Original Poutinerie. Representing 80's Canadiana culture, known for the signature lumberjack plaid, and glam rock music, Smoke's Poutinerie serves over 30 varieties of its famous poutine. With 150-plus locations across North America and international expansion into the Middle East, Europe and the UK, the brand is on course for GLOBAL DOMINATION!
CLICK HERE for more information on Smoke's Poutinerie!
Become a Facebook fan of Smoke's Poutinerie!
Follow Smoke's Poutinerie on Twitter @Poutinerie.
Follow Smoke's Poutinerie on Instagram @Smokes_Poutinerie.
Become a fan of the MLE Facebook Page
For instant results to all Major League Eating Contests, follow @eatingcontest.
*All applicants must be 18 years of age or older and fully acknowledge and understand the inherent dangers and risks associated with participating in an eating contest. The applicant further acknowledges and understands that the MLE/IFOCE coordinates with event sponsor(s) to select and approve eligible participants, and that the MLE/IFOCE shall decide, at its sole discretion, whether an applicant is eligible to participate in any eating event, and/or related activities. The MLE/IFOCE may revoke an applicant's eligibility to participate in the eating contest, or related activities, at any time, for any reason, at its sole discretion. The MLE/IFOCE and the event sponsors reserve the right, at any time, to change any and all details concerning the event, including, e.g., time, duration, location and prize structure.
Registration is closed.