The Day-Lee Foods World Gyoza Eating Championship
Location: Los Angeles, CA
Date: 08-22-2020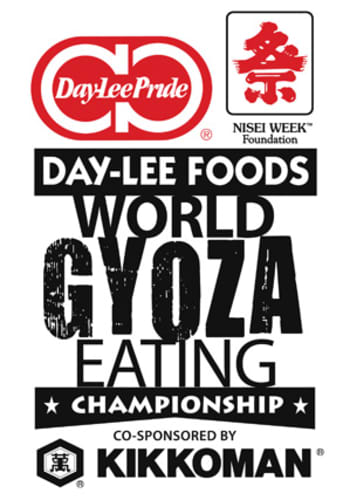 REGISTRATION FOR THIS EVENT WILL OPEN AT NOON LOS ANGELES, CA, TIME ON MONDAY JUNE 15TH, 2020!
We have great news, ladies and gentlemen. Truly great news. Once more, the majestic Day-Lee Foods World Gyoza Eating Championship returns to Major League Eating's slate of sanctioned eating championships in 2020. The greatest eaters in the world will once more travel to to Little Toyko in Los Angeles, CA, to enjoy gyoza after gyoza. Major League Eaters are warmly encouraged to sign up for the chance to compete at this legendary event.
At the 2019 Day-Lee Foods World Gyoza Eating Championship, Joey Chestnut won with an impressive 314-gyoza haul. His 2014 world record title of 384 Day-Lee Foods gyoza in 10 minutes will be on the line again this year.
Do you have what it takes to eat what would be a world record 385 Day-Lee Foods gyoza in 10 minutes—knowing that doing so would revolutionize gyoza consumption globally? Can you handle that kind of responsibility? It is immense. Can you eat more than 385? Less than that? No matter—answering the call is the first step. This is The 2020 Day-Lee Foods World Gyoza Eating Championship! At the table or in the crowd—don't you ever miss it!
$6,000 TOTAL PRIZE PURSE! 1st place $2,000 2nd place $1,500 3rd place $800 4th place $550 5th place $450 6th place $250 7th place $150 8th place $125 9th place $100 10th place $75
This contest* will take place at 3pm Pacific on Saturday August 22nd, 2020, at the Japanese American Cultural and Community Center (JACCC) Plaza, 244 S. San Pedro St., Los Angeles, CA 90012!
Please note: This contest is restricted to participants aged 18 and over.
About The Day-Lee World Gyoza Eating Championship and the Nisei Week Festival! Celebrating 14 years and over 24,000 gyoza consumed, the Day-Lee Foods World Gyoza Eating Championship is proud to welcome Major League Eating's best back to the Nisei Week! The Day-Lee Foods World Gyoza Eating Championship will take place during the second weekend of the 80th Nisei Week Japanese Festival and all proceeds will benefit the Nisei Week Foundation. The Nisei Week Foundation is a non-profit 501 ©(3) charitable organization that produces the nine-day festival in order to celebrate and share Japanese and Japanese-American culture and history as an integral part of the City of Los Angeles' historic Little Tokyo Community. Day-Lee Foods, Inc. is a wholly owned subsidiary of NH Foods Ltd. NH Foods Ltd. has been delivering quality meat products to the food service and general consumer markets for more than 50 years. Their products are available at grocers nationwide under the Day-Lee Pride and Crazy Cuizine Brands.
CLICK HERE for more information on the 2020 Los Angeles Nisei Week Festival.
Become a fan of the Day-Lee Nisei Week Gyoza Championship Facebook Page
Follow The Day-Lee Foods World Gyoza Eating Championship on Twitter @EatMoreGyoza.
Follow The Day-Lee Foods World Gyoza Eating Championship on Instagram @EatMoreGyoza.
Become a fan of the MLE Facebook Page
*All applicants must be 18 years of age or older and fully acknowledge and understand the inherent dangers and risks associated with participating in an eating contest. The applicant further acknowledges and understands that the MLE/IFOCE coordinates with event sponsor(s) to select and approve eligible participants, and that the MLE/IFOCE shall decide, at its sole discretion, whether an applicant is eligible to participate in any eating event, and/or related activities. The MLE/IFOCE may revoke an applicant's eligibility to participate in the eating contest, or related activities, at any time, for any reason, at its sole discretion. The MLE/IFOCE and the event sponsors reserve the right, at any time, to change any and all details concerning the event, including, e.g., time, duration, location and prize structure.