The Snowbird Bratwurst Eating Championship
Location: Snowbird, UT
Date: 08-24-2019

Winner: Geoffrey Esper, with a WR 36 4.5oz Brats in 10 mins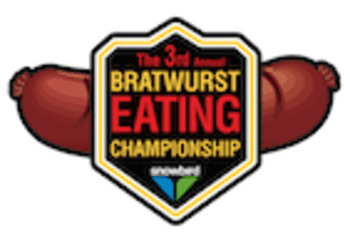 ESPER SETS NEW BRATS WORLD RECORD!
Hail, Esper! Lord of the bratwurst! Geoffrey Esper, world #2, ate 36 4.5oz brats in 10 minutes to set a new world record in the discipline at the 3rd annual Snowbird Bratwurst Eating Championship. If you were not there to witness his achievement but have seen Esper eat in sanctioned competition in the past, close your eyes and imagine what it looked like. Do you spy a relentless, compact freight train of eating? That'd be accurate. The world record stood little chance.
Nick Wehry (35.5) and Miki Sudo (35) both topped the previous world record mark of 34 and should be commended for their efforts. Gideon Oji finished fourth with 31 and Michelle Lesco ate 24.5.
Others ate less but that's okay. All who participated bathed in the true majesty of the venue itself. Snowbird's Oktoberfest is a perfect slice of alpine merriment. How could it not be, nestled as it is high in the mountains of Utah, glowing in the late summer sun? MLE members who have not competed in this event are encouraged to do so in the future. The place is stunning.
Full results below.
FULL RESULTS! 1. Geoffrey Esper 36 4.5oz Brats in 10 Mins 2. Nick Wehry 35.5 3. Mii Sudo 35 4 Gideon Oji 31 5. Michelle Lesco 24.5 6. Matt Hazzard 22 7. Derek Hendrickson 18.5 8. Sergio Reyes Raya 10 9. Casey Johnson 8 10. Rusty Johnson 7 11. Prudence di Benedetto 5.5
This contest tok place at 1.45pm Mountain Time, on Saturday August 24th, 2019, at Oktoberfest Halle, Snowbird Center Event Tent, Snowbird, 9385 Snowbird Center Drive, Snowbird, UT 84092!
About Snowbird's 47th Annual Oktoberfest Celebration! Voted one of America's 10 Best Oktoberfests by Men's Journal Magazine. Snowbird's Annual Oktoberfest attracts over 60,000 visitors and has grown to become one of the largest festivals in Utah. Every Saturday and Sunday from Aug. 17th through Oct. 20th, 2019, including Labor Day on Monday, Sept. 2nd.
CLICK HERE for more information on Snowbirdl!
Become a Facebook fan of Snowbird!
To stay abreast of all Snowbird activities, follow @Snowbird.
On Instagram, follow @Snowbird.
Become a fan of the MLE Facebook Page
For instant results to all Major League Eating Contests, follow @eatingcontest.
*All applicants must be 18 years of age or older and fully acknowledge and understand the inherent dangers and risks associated with participating in an eating contest. The applicant further acknowledges and understands that the MLE/IFOCE coordinates with event sponsor(s) to select and approve eligible participants, and that the MLE/IFOCE shall decide, at its sole discretion, whether an applicant is eligible to participate in any eating event, and/or related activities. The MLE/IFOCE may revoke an applicant's eligibility to participate in the eating contest, or related activities, at any time, for any reason, at its sole discretion. The MLE/IFOCE and the event sponsors reserve the right, at any time, to change any and all details concerning the event, including, e.g., time, duration, location and prize structure.
Registration is closed.