The Snowbird Bratwurst Eating Championship
Location: Snowbird, UT
Date: 08-24-2019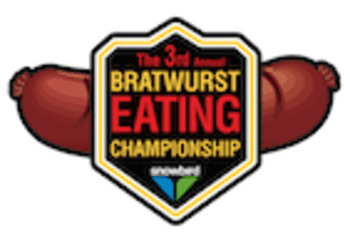 REGISTRATION FOR THIS EVENT IS OPEN!
To Utah! To Snowbird, more specifically! The 3rd annual Snowbird Bratwurst Eating Championship is soon upon us. Major League Eaters from across the world are warmly invited to sign up for the chance to compete in this majestic event.
And we say majestic not only because the brats on offer are truly delicious because of course they are. And it is not because of the $4,000 on offer, although only a fool would scoff at being rewarded with money for eating a lot. No. The true majesty lies in the venue itself. Snowbird's Oktoberfest is a perfect slice of alpine merriment. How could it not be, nestled as it is high in the mountains of Utah, glowing in the late summer sun? MLE members who have not competed in this event are encouraged to do so. The place is stunning.
At last year's event, Geoffrey Esper put away 33 4.5oz brats—big boys—in 10 minutes. It was his first time facing the brat in a contest setting. (We assume he has eaten them recreationally. It'd be weird if he'd never eaten a brat. And Geoffrey is not weird.) He fell one brat short of Gideon Oji's 2017 haul of 34 brats—the mark to beat this year.
Do you want to win money by eating brats in one of the most beautiful places on this great Earth? If the answer is no, why are you even reading this? There are other webpages to read. So many pages. This page is for those who get it: This is the Snowbird Bratwurst Eating Championship. At the table or in the crowd, don't you ever miss it!
TOTAL PRIZE PURSE: $4,000! 1st place $2,000 2nd place $1,000 3rd place $500 4th place $350 5th place $150
This contest will take place at 1.45pm Mountain Time, on Saturday August 24th, 2019, at Oktoberfest Halle, Snowbird Center Event Tent, Snowbird, 9385 Snowbird Center Drive, Snowbird, UT 84092!
About Snowbird's 47th Annual Oktoberfest Celebration! Voted one of America's 10 Best Oktoberfests by Men's Journal Magazine. Snowbird's Annual Oktoberfest attracts over 60,000 visitors and has grown to become one of the largest festivals in Utah. Every Saturday and Sunday from Aug. 17th through Oct. 20th, 2019, including Labor Day on Monday, Sept. 2nd.
CLICK HERE for more information on Snowbirdl!
Become a Facebook fan of Snowbird!
To stay abreast of all Snowbird activities, follow @Snowbird.
On Instagram, follow @Snowbird.
Become a fan of the MLE Facebook Page
For instant results to all Major League Eating Contests, follow @eatingcontest.
*All applicants must be 18 years of age or older and fully acknowledge and understand the inherent dangers and risks associated with participating in an eating contest. The applicant further acknowledges and understands that the MLE/IFOCE coordinates with event sponsor(s) to select and approve eligible participants, and that the MLE/IFOCE shall decide, at its sole discretion, whether an applicant is eligible to participate in any eating event, and/or related activities. The MLE/IFOCE may revoke an applicant's eligibility to participate in the eating contest, or related activities, at any time, for any reason, at its sole discretion. The MLE/IFOCE and the event sponsors reserve the right, at any time, to change any and all details concerning the event, including, e.g., time, duration, location and prize structure.
Registration is open
The Snowbird Bratwurst Eating Championship
Snowbird, UT
08-24-2019