2005 Nathan's Famous Fourth of July International Hot Dog-Eating Contest
Location: Coney Island, NY
Date: 07-04-2005

Winner: Takeru Kobayashi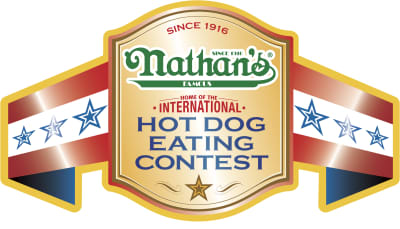 On July 4, 2005, the eyes of the world were focused on Coney Island, NY, for the 90th installment of the Nathan's Famous Fourth of July International Hot Dog-Eating Contest. Five-time world champion Takeru Kobayashi of Japan sucessfully defended his title at Nathan's Famous in Coney Island by consuming 49 Nathan's Famous hot dogs and buns in 12 minutes. Sonya Thomas, who ended with 37, was on Kobayashi's heels throughout the first half of the contest and clearly pushed him harder than any American ever has.
The big surprise of the day, however, was San Jose's Joey Chestnut, a rookie who shocked a field of veteran gurgitators by consuming 32 HDBs to earn third place. Chestnut started fast and maintained his pace throughout.
Cookie Jarvis of Long Island and Kenji Oguni of Japan tied for fourth with 29. The crowd at the corner of Surf and Stillwell was unbelievable -- an estimated 10,000 fans.
The Fuji Blimp hovered high over Nathan's as ESPN aired the event live with hosts Paul Page and Richard Shea. Page will team up with Richard Shea and his brother, George Shea, in late July for the Alka-Seltzer US Open of Competitive Eating.
Full Results: 1. Takeru Kobayashi - 49 2. Sonya Thomas - 37 3. Joey Chestnut - 32 4. Kenji Oguni - 29 4. Ed Jarvis - 29 6. Rich LeFevre 25 1/2 7. Carlene LeFevre - 25 8. Ron Koch - 23 9. Tim Janus - 22 1/2 10. Eric Booker - 22 10. Charles Hardy - 22 12. Pat Philbin - 20 13. Crazy Legs Conti - 19 14. Joe LaRue - 18 15. Don Lerman - 15 16. Rob Burns - 10
"The Nathan's Famous Fourth of July International Hot Dog-Eating Contest continues to entertain and fascinate millions of people around the world," said Wayne Norbitz, president and COO of Nathan's Famous. "We are thrilled to offer this spirited event on America's most patriotic day."
The Fourth of July event, which is sanctioned by the IFOCE, took place at Nathan's Famous on the corner of Surf and Stillwell avenues in Coney Island, Brooklyn.