Buffalo Buffet Bowl
Location: Orchard Park, NY
Date: 09-02-2023

Winner: Miki Sudo, with 5lbs of Buffalo Cuisine in 4 min 10 sec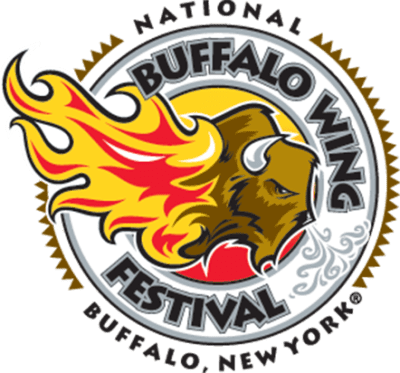 BUFFALO'S QUEEN CONTINUES TO REIGN SUPREME
Miki Sudo proves that Wing Fest is her weekend by adding another championship to her mantle!
FULL RESULTS
Miki Sudo - 4 mins 10 seconds to consume 5lbs of Buffalo Cuisine
Joey Chestnut - 5 mins 17 seconds 3T. Nick Wehry - 5 mins 28 seconds 3T. Gideon Oji - 5 mins 28 seconds
--
Get ready for an epic showdown as the Buffalo Buffet Bowl returns to the world's greatest celebration of the Buffalo wing and the Buffalo wing-centered lifestyle - The National Buffalo Chicken Wing Festival! Join us on Saturday, September 2nd, 2023, at the iconic Highmark Stadium, as we immerse ourselves in the flavors, thrills, and frenzy of Buffalonian cuisine.
Prepare your taste buds for a symphony of flavors as Major League Eaters from near and far converge to tackle some of your favorite items in Buffalo cuisine. Whether it's chicken strips, beef on weck, Buffalo-style pizza, or other delectable local delicacies, the Buffalo Buffet Bowl promises to showcase the best of Buffalonian gastronomy in all its glory.
Last year's event witnessed an astonishing upset as Geoff Esper triumphed over Joey Chestnut, devouring his way to victory in a staggering time of 3 minutes and 29 seconds. Who will rise to the challenge this year? Join us and be a part of the heart-pounding action as history unfolds before your eyes.
Mark your calendars and plan your trip to the 22nd annual National Buffalo Wing Festival, where the Buffalo Buffet Bowl takes center stage. Join us this Labor Day weekend at Highmark Stadium for a culinary adventure that will tantalize your taste buds and leave you craving for more.
$1,750 PRIZE PURSE! 1st place $1,000 2nd place $500 3rd place $250
This contest will take place at 6pm on Saturday, September 2nd, 2023, at Highmark Stadium—home of the NFL's Buffalo Bills. The stadium is located at 1 Bills Drive, Orchard Park, NY, just north on Abbott, across from Hammer's Lot.
CLICK HERE for more information on the National Buffalo Wing Festival
Become a Facebook fan of The National Buffalo Wing Festival!
Follow The National Buffalo Wing Festival on Twitter @Wingfest.
For results to all Major League Eating Contests, follow @eatingcontest.
*All applicants must be 18 years of age or older and fully acknowledge and understand the inherent dangers and risks associated with participating in an eating contest. The applicant further acknowledges and understands that the MLE/IFOCE coordinates with event sponsor(s) to select and approve eligible participants, and that the MLE/IFOCE shall decide, at its sole discretion, whether an applicant is eligible to participate in any eating event, and/or related activities. The MLE/IFOCE may revoke an applicant's eligibility to participate in the eating contest, or related activities, at any time, for any reason, at its sole discretion. The MLE/IFOCE and the event sponsors reserve the right, at any time, to change any and all details concerning the event, including, e.g., time, duration, location and prize structure.
Registration is closed.