The U.S. National Buffalo Wing Eating Championship
Location: Buffalo, NY
Date: 09-01-2019

Winner: Geoffrey Esper, with 281 wings in 12 mins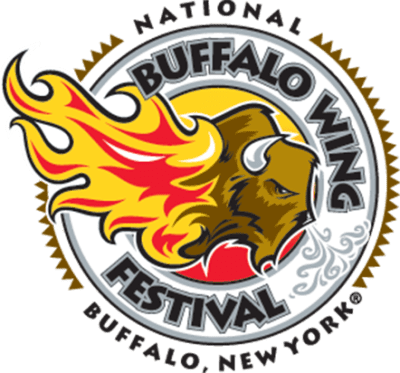 ESPER CLAIMS WING CHAMPIONSHIP!
Winter in Aspen. Summer in the Hamptons. And Labor Day in Buffalo. It is an American tradition like no other—the U.S. National Buffalo Wing Eating Championship at the National Buffalo Wing Festival returns once more, people. Major League Eating will join the Wing King himself, Mr Drew Cerza, in the spiritual home of recreational and competitive chicken wing eating—Buffalo, NY. It is an event not to be missed. Major League Eaters are army encouraged to sign up for a chance to compete in this legendary event.
At the 2019 Championship, Geoffrey Esper ate 281 wings in 12 mins for the win, edging the great Joey Chestnut by just five wings. Miki Sudo would finish in third with 221. Others ate less but that's totally fine.
Do you dare challenge these legends of wing eating? Do you have what it takes to cover yourself in Buffalo Wing glory or at very least a lot of wing sauce? Do you want to find out, finally, why smart men and women the world over call Buffalo, NY, a truly majestic place to be? Major League Eaters are warmly invited to sign up to compete. At the table or in the crowd—don't you ever miss it!
$5,000 Total Prize Purse! 1st - $2,500 2nd - $1,200 3rd - $650 4th - $350 5th - $200 6th - $100
This contest will take place at 5pm Eastern time, on Sunday September 6th, 2020, at The National Buffalo Wing Festival, held at Sahlen Field, 275 Washington St, Buffalo!
About The National Buffalo Wing Festival! The National Buffalo Wing Festival takes place over Labor Day Weekend at Coca-Cola Field in Buffalo, NY. Part of the proceeds from the festival go to benefit Western New York charities, raising more than $315,000 over the festival's history.
CLICK HERE for more information on the National Buffalo Wing Festival
Become a Facebook fan of The National Buffalo Wing Festival!
Follow The National Buffalo Wing Festival on Twitter @Wingfest.
Become a fan of the MLE Facebook Page
For instant results to all Major League Eating Contests, follow @eatingcontest.
*All applicants must be 18 years of age or older and fully acknowledge and understand the inherent dangers and risks associated with participating in an eating contest. The applicant further acknowledges and understands that the MLE/IFOCE coordinates with event sponsor(s) to select and approve eligible participants, and that the MLE/IFOCE shall decide, at its sole discretion, whether an applicant is eligible to participate in any eating event, and/or related activities. The MLE/IFOCE may revoke an applicant's eligibility to participate in the eating contest, or related activities, at any time, for any reason, at its sole discretion. The MLE/IFOCE and the event sponsors reserve the right, at any time, to change any and all details concerning the event, including, e.g., time, duration, location and prize structure.
Registration is closed.